Introduction
The James Madison and Leah Arcouet Chiles House is listed on the National Register of Historic Places. Set at the top of Leah Chiles Park in the Kenilworth area of Asheville about a mile from the Biltmore Estate and Mission Hospital and a mile and a half from downtown Asheville, Chiles House was built by James (Jake) and Leah Chiles in 1922. Jake, a furniture salesman turned real estate developer, developed the historic Kenilworth Inn, which is also listed on the National Register. This website was established in 2016 to house all of our historical research on the Chiles House and Kenilworth and to document the evolution of this important landmark.  Please check out our photos and historical resources.   Also visit our Chiles House Facebook page for progress photos and updates.  Our Chiles House instagram page has photos as well.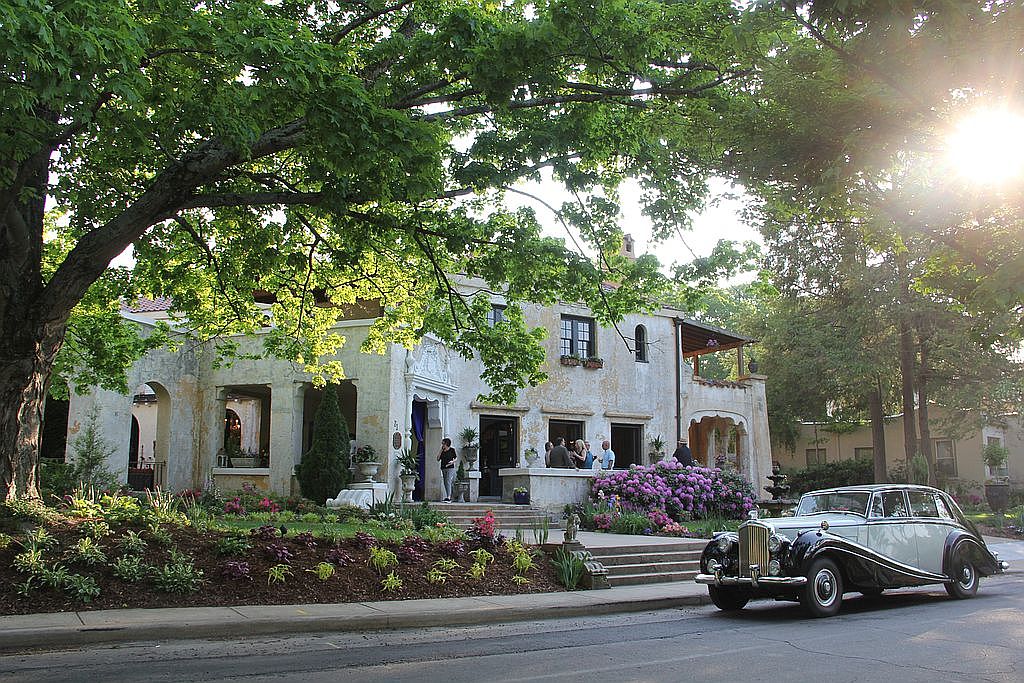 Jake and Leah developed the town of Kenilworth, which was annexed by the City of Asheville during the Great Depression. A well known artist, businesswoman, and civil rights pioneer, Leah achieved national recognition when Kenilworth elected her mayor. This made her one of the first women elected as a mayor in North Carolina. Chiles House was designed in the Spanish Colonial Revival style by prominent Asheville architect Ronald Greene, who designed the iconic Gothic skyscraper known as the Jackson Building in downtown Asheville, as well as other notable buildings. Many elegant and unique features make Chiles House one of the best known homes in Asheville.  Arched doorways, a wood paneled library, striking tiled bathrooms, modern remodeled kitchen, and extensive gardens balance historic charm with modern amenities.  The home features five bedrooms, including a large master suite with a sunken tub and dressing room. The large downstairs bedroom with adjoining full bath opens directly into the fragrant walled rose garden.
The home has been extensively renovated, including the addition of air conditioning and heating, a large kitchen and a new clay tiled roof. The former carriage house is now a renovated standalone home theatre with a bar, and the former chauffeur's quarters now houses a separate climate-controlled wine room complete with the original stone fireplace. The current owners completed a careful multi-year preservation rehabilitation that culminated in being listed on the National Register of Historic Places in January 2018. This qualifies the house for state income tax credits for qualifying repairs and improvements.
The owners earned a Griffin Award from The Preservation Society of Asheville and Buncombe County in 2019 for Outstanding Rehabilitation. Chiles House previously won a Griffin Award in 2006 when the home was saved from certain demolition. Featured on the 2018 Preservation Society gala home tour, Chiles House sill hosts many fundraisers and elegant dinners.
The Chiles House is one of the most unique homes in the city of Asheville.  James (Jake) Madison Chiles, who made his fortune in the furniture industry, was the original developer of the Kenilworth neighborhood in Asheville, and decided to build himself a home in the middle of the neighborhood he conceived.  Chiles House is a unique old home with an indelible connection to the history of Asheville.  The current owners have been working on sprucing up the house and gardens.   We're just two guys who like history and old houses and we invite you to follow our progress as we unlock hidden secrets about the past of Chiles House, catalogue its history, and work to put our own stamp on it.   For current updates see our Facebook page!
Ownership
Jake and Leah Chiles constructed their home in Kenilworth  over four years beginning in 1922 at a cost of over $80,000.  Kenilworth, the neighborhood and town founded by Jake Chiles, is close to downtown Asheville, with numerous parks and ancient majestic trees. Leah Chiles, Jake's wife, became mayor after Jake's death in 1925, making her the first woman mayor in North Carolina. As mayor, Leah ultimately presided over the decision for Kenilworth to become part of Asheville.  After Jake's death, the assets of the business were sold at auction on the courthouse steps for $1200.  With the ensuing Great Depression, the home fell on hard times, serving as a boarding house for a number of years.  The home then was rumored to be owned by the de Medici family until 1951.   John Chiles, the son of James Madison Chiles, and his wife Anne, purchased the home from Marie K de Medici. John and Anne Chiles owned the home until 1964.  The house was subsequently bought by the Ryan family, who owned it for about 40 years until 2003.  By that time the house was in a state of disrepair and was rumored to be condemned for demolition.
See a gallery of photos of Chiles House in disrepair.
Vanessa Cram (now Vanessa Cram Byrd) and Jason Eller undertook an extensive renovation of the house and grounds. Working 7 days a week,  Jason Eller and his small crew saved the house from almost certain demolition.  The renovation was honored with the Griffin Award by the Preservation Society of Asheville & Buncombe County.
Features
Designed by well known architect Ronald Greene, who also designed the Jackson Building in downtown Asheville, the romantic Chiles House evokes old world European charm and craftsmanship.  It features a covered front entry with Baroque details, three balconies which overlook three private walled courtyards and several outbuildings, original quarter sawn oak floors, a library made of black walnut paneling, quad leaf doors, and mahogany raised panels and trim throughout the house. The home also features original doors and rare and original hardware thought to have been produced by Anthony Lord, a well-known local architect and iron worker.
The grounds feature a walled garden with wrought iron accents and an outbuilding affectionately known as the summer cottage.
A single story carriage house has three sets of french doors and the original exposed terra cotta hollow bricks in the interior. The remains of the former chauffeur's quarters attached to the carriage house existed for about 70 years as a ruin with no roof.   In 2020 a new roof and climate control was added and the space took on a new life as a dedicated wine room.
Chiles House has been published numerous times, having been featured in architectural publications alongside Biltmore House and The Grove Park Inn.  Chiles House  has most recently been featured on Home and Garden Television and in Carolina Home and Garden Magazine.  The home has also previously been included in the 2006 home tour sponsored by the Preservation Society of Asheville & Buncombe County.
We are still researching the history of Chiles House.  Do you  know any past residents? Are you a contractor or tradesman who has worked on the house? Have you been to a big party here? Are you an amateur historian with any interesting tidbits about the era when Chiles House was built?  Let us know. Think of this website as our online scrapbook and add your thoughts, suggestions, photos and stories.   Feel free to comment below or  Contact Us with any information you may have.  Thanks!